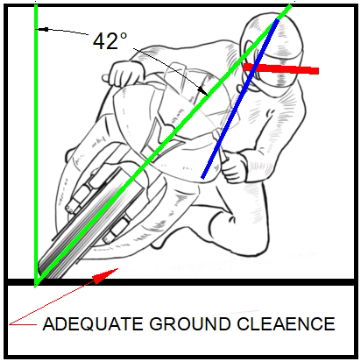 "
Advanced Riding Techniques Workshop
"
registration $525
(includes track day fee)Workshop Registration is through AHRMA/Motor Sports Registration on-line service.
Now open for registration.
Thursday June 16th, 2022, New Jersey Motorsports Park Millville NJ
Machine Tech Requirements
(for Workshop)
Tires and brakes must be in good operational condition. Tires should be at least 50%+ of new condition. Any tires that are bluing from excessive wear are not allowed. Any tires with sidewall dry rot / cracking are not allowed.
All glass, headlight, side mirrors, turn signals, and plastic lenses must be taped over or removed.
No bikes with center stands should be approved for track use in the Advanced Group due to ground clearance issues. Riders must zip tie both side stands and center stands to prevent deployment prior to entering the track. Zip ties will be available in tech for their use.
All machines must have an operational handlebar mounted kill switch/button and self-closing throttle in good working condition.
Water cooled machines must use water or water wetter only. Ask the rider what they are running, if unsure or suspect an issue, pop the radiator cap and feel for slick fluid. Instruct riders using unapproved coolant to flush and refill with water prior to getting a tech sticker.
All valve stems must have caps.
Wheel balance weights must be well secured and duct taping is required.
License plates must be removed.
Oil drain plug and filler cap must be safety wired or secured.
Kickstart levers must be removed prior to entering the track.
Any cameras mounted on the machine must be tethered, no cameras allowed on helmets.
RIDER GEAR
(for Workshop)
Track day participants shall obtain a medical card and lanyard at AHRMA tech. The card shall be completely filled out and worn at all times on the track.
Helmets should show no evidence of damage or contact BSI,ECE-2205, DOT, or SNELL full-face helmets only, face shield in good condition mandatory.
Riding boots must fully cover the ankle.
Glove shall be gauntlet-style with full wrist coverage.
Leather riding gear can be either be one or two-piece. Two-piece leather suits must zip together with at least 50% zipper contact. Ballistic nylon suits such as Joe Rocket, AeroStitch, etc., are acceptable in Novice ONLY. They can be one piece or two piece that zip together with 50% zipper contact, reinforced and padded shoulders, elbows, hips, and knee areas. No chaps.
Advanced and Intermediate group riders are required to wear back protectors. Soft back pads sewn into suits are not enough.
Recommend the use of a chest protector if available but not required.